Bacon Chocolate Chip Muffins... Say WHAT?!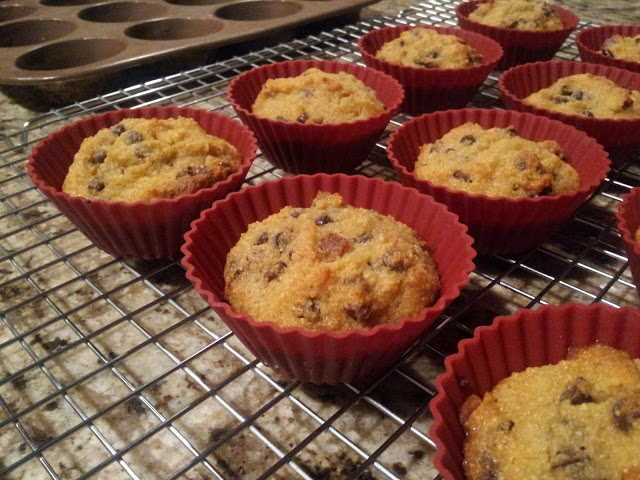 Yep, that's right. I put bacon into an already delicious treat. You are welcome. I'm not even going to bother with a "real" post today, just the recipe, because I know that I had you at "Bacon Chocolate..." and you're not reading a word of what I have written. You just want that recipe.
Bacon Chocolate Chip Muffins
Ingredients:
1/2 cup coconut flour
1/4 tsp salt
1/4 tsp baking soda
4 eggs
1/2 cup honey (preferably raw & local)
1 tbsp real vanilla extract
1/3 cup fat, melted (butter, ghee, coconut oil... I used bacon fat, of course)
2 tbsp plain yogurt, full fat
1/3 cup mini chocolate chips (I used Enjoy Life Brand)
4-5 strips of natural bacon, cooked until very crisp and broken into pieces

Directions:
Preheat oven to 350 degrees F
Mix dry ingredients in a bowl or mixer
Using a whisk or mixer, add wet ingredients
Mix until well-blended and no clumps of flour
Stir in chocolate chips and bacon pieces
Fill muffin liners 2/3's full
Bake for approx 20 minutes, until toothpick comes out clean and top is slightly browned
*Recipe makes 12 muffins
Enjoy! Mr T wasn't sure what he thought about these bad boys but I sure enjoyed them!