Prego Prep: Stocking my Freezer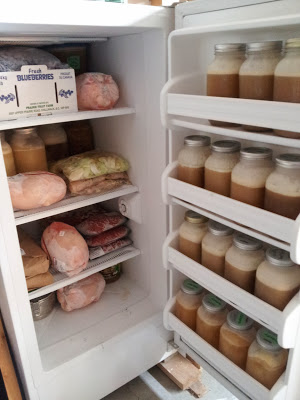 I am almost 37 weeks pregnant and trying to prep as much healthy, yummy, and easy food as I can fit in my freezer before baby #3 makes his/her entrance. The last 2 times I was pregnant I would've been making lasagne,  casseroles with rice/pasta/potatoes,  and what my family calls "Harvest Soup" with beef, barley, tomatoes and other veggies.  But now that we've entered into the world of GAPS, my focus is on having mostly broths and GAPS-legal soups, stews and meats stocked in my freezer. When baby is born, Ty or I will still need to make our twice weekly trips to get eggs and produce. But I am okay with that. I will be making larger batches of soups and stews over the coming weeks so that I can freeze leftovers but another way to have easy meals is to have meat pre-marinated or seasoned in the freezer so all you have to do is take it out in the morning to thaw then cook it later that day with whatever vegetables you have on hand. Or better yet, you can have meat with veggies already put together to throw in your slow cooker in the morning!
Here is what I have (or plan to have) stocked in my freezer:
How is something so boring... so beautiful?
Chicken & beef broths (approx 12L of each)
Pureed butternut squash (4 large ziplocs; we use this for pancakes)
Grated zucchini (used mostly for baking)
Grated carrots (used for baking & meatballs)
Various bags of blanched veggies from the summer
Frozen blueberries (added to yogurt, chia pudding, or baking)
Beef stew ingredients (bags of stewing beef with prepped onions, carrots & turnips)
Beef & vegetable soup (using ground beef and various veggies I had on hand)
Chili ingredients (bags of stewing beef, tomatoes, peppers, onions, spices)
Baking; chocolate zucchini loaf & carrot muffins
Chicken legs/thighs marinated for butter chicken and greek chicken
Chicken curry with cabbage ingredients (bag of chicken, cabbage, onion, spices)
I also have whole roasting chickens and packages of ground beef & stewing beef on hand
Honestly, I would prep more if I wasn't out of freezer space! I'm thinking we might need to save up for another freezer. I would love to have one just for meat so that I can order a side of beef and buy chicken in bulk. Then the other freezer could be broths, leftover soups/stews, blanched vegetables, frozen fruit, etc.
I have a few new recipes I have made in the last couple weeks that turned out really well and a couple more I might get to try before baby arrives, so there will be more new recipe posts soon! We're continuing to enjoy lots of varied meals and tasty dishes on the
What are your favourite freezer meals?
---
This post is part of Fight Back Friday on Food Renegade.