Soy - Part One: Introduction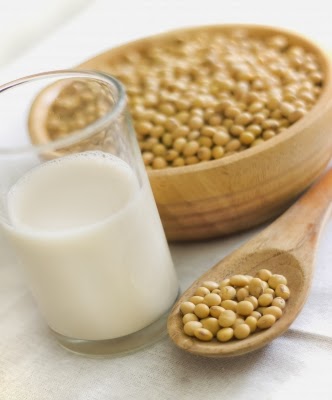 Since posting about milk (back in 2011), I've had a handful of people ask me why I don't drink soy milk instead of cow or goat's milk.
My simple answer: I believe soy products do more harm than good.
Now that I am on the GAPS diet, I avoid all soy products completely; but for generally healthy people, I hope to share with you some helpful information that may guide you to at least avoid most soy products.
First off, before I met my husband, I thought soy was a "health" food and that I must not be very "healthy" because I didn't eat tofu. Then my hubby told me that soy isn't good for me. He didn't really know why and I didn't care, since it made me feel like a better person knowing I didn't have to eat soy products to be healthy.
But eventually--without even looking for answers--articles online and segments on TV shows starting popping up that questioned whether soy is good for us or not. And of course, like any debate, the sides were usually biased. When the financial success of a corporation depends on consumers purchasing soy products, then of course they're going to say that soy is not only safe to consume, but also worth spending a lot of money on because it is good for your health.
For those of you who have followed my blog for a while, or know me personally, you know that research is important to me. While I do listen to the opinions of people that I trust to be knowledgeable, I also check other sources to try to find a well-rounded source of information. I do not claim, and will never claim, to have all the answers or know what is "fact" (since the facts seem to change all the time...), but I do try my best to gather as much information as I can so that I can make an informed decision that I feel comfortable with. As the main person responsible for the health and well-being of my own family, I do not make decisions lightly and I need to be comfortable with each decision I make.
So over the next few weeks, I will be releasing some of the information that has guided my decision making regarding the consumption of soy products. I encourage you to read through each one of my posts, all the way to my conclusion, before deciding for yourself. I will never say that you should never eat soy again, but I hope that the information I pass on will help you make a well-informed decision--either to continue eating soy, change the amount or type of products you are consuming, or cut it out completely. It's up to you!
My purpose for this series is to provide information that will help you better understand what you are eating.
Read the whole "Truth About Soy" Series:
Part One - Introduction
Part Two - The Dangers of Unfermented Soy
Part Three - Phytoestrogens
Part Four - GMOs and Soy Production
Part Five - Should Kids Eat Soy?
Part Six - The Benefits of Fermented Soy
Part Seven - Conclusion