How to: Cook Spaghetti Squash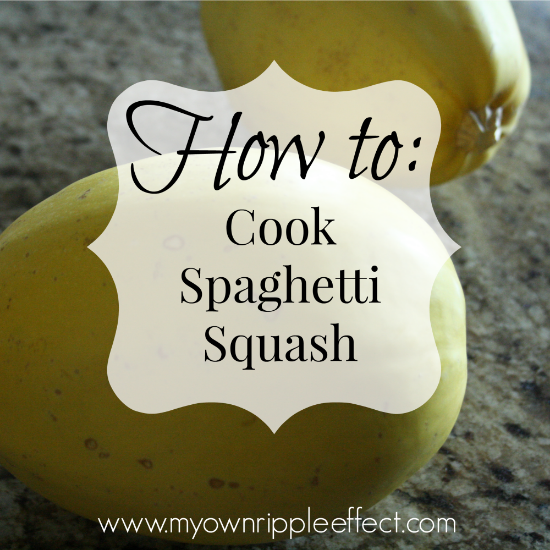 I'll admit it. I do miss pasta sometimes! The Italian in me just can't help it! Plus, nothing says comfort to me more than a large plate of my mom's homemade spaghetti sauce on top of perfectly al dente conchiglie (shell) pasta. Those little shells just fill up with yummy saucy goodness, don't they?!
Ok, now I'm drooling. That's not good.
But there's good news! There are wonderful options out there for those of us who are grain-free. One of my favourite options is spaghetti squash.
Spaghetti squash makes a nice base for my yummy Chicken Bacon Alfredo or any of my homemade tomato-based sauces.
If you've never before cooked spaghetti squash, you're missing out! It's super simple--there's hardly any prep time and it is a great addition to any diet.
Here's a quick "how to":
Preheat oven to 350 degrees.
Cut the stem off of the squash, then stand it up and cut through it lengthwise.
Tip: If your squash is too hard to cut through, you can microwave it for a few minutes first to soften it. Or call a man.
Using a spoon, scoop out the seeds...
...so it looks like this.
Place the squash (I did two of them) cut-side down on a baking pan.
Tip: Add a small amount of water just to cover the bottom of the pan. This helps to cook it faster and more evenly, without it browning.
Cook for 30-40 minutes until a fork can poke easily through the rind of the squash. When the squash is cooked, take it out of the oven and flip the halves over so the cut-side is facing up. Allow the squash to cool enough to handle.
Using a fork, gently pull apart the inside of the squash.
After the squash is all shredded, top it with your favourite pasta sauce or just add some butter, salt and pepper!
So simple, right?
---
This post shared at: