Bacon Wrapped Asparagus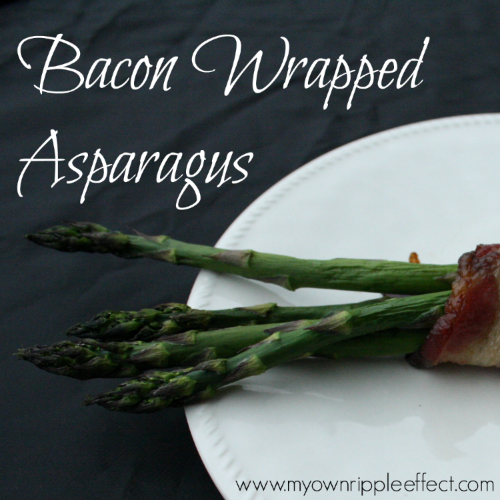 Last Sunday was not only Father's Day, but it was also a birthday celebration in our house! My amazing husband, Ty, turned 29! Is it weird that I'm jealous? He's got two years on me and I am so excited to experience my 30's! I just have a good feeling about that decade... So because it was double the celebration in our house, I decided to give him double celebration and double meat. We had both steak AND pork back ribs on Sunday for dinner. So good. I guess it's partly selfish of me since I thoroughly enjoyed it too :)
I thought it was only fair to give him the whole weekend as his special "day" so on Saturday we had his family over for another good dinner. I made simple, oven-cooked chicken legs and bacon wrapped asparagus. Brilliant idea. Absolutely brilliant.
Lucky for you guys, I saved enough to snag a photo after we ate so I could post a recipe for you! And by "recipe" I mean... here's a great idea, try it! It's just a few simple directions :)
Bacon Wrapped Asparagus
Directions
Partially pre-cook your bacon. By doing this step, you ensure that your bacon and asparagus cook evenly. Otherwise, you'll end up with either undercooked bacon or overdone asparagus. The absolute best way to cook bacon is in the oven! Read the "How-to" tutorial here. For this recipe, simply take them out when they are partially cooked, but not yet crispy.
Lay partially cooked bacon on paper towel and allow it to cool enough to handle.
Divide your asparagus into bundles of three or four, depending on the thickness. I also sorted mine by relative height, since some were short and some were super long.
Starting near the bottom, wrap a piece of bacon around your asparagus bundle.
Place bundles on a baking sheet. If you lay the bundles with the "loose" end tucked under, then it should stay together, but you could throw a toothpick in if you want to.
Bacon in a 350 degree oven for about 10-15 minutes, checking on them regularly.
When the bacon has crisped a bit and the asparagus are tender, they're done!
Simple? Check!
Delicious? Check!
Send me a beautiful bouquet of bacon roses or a bacon fat candle as a thank you for this recipe? ...check? :)
---
Also, if you like this recipe, you'll probably enjoy my Bacon-Fried Green Beans too!
---
This post shared at: