Cooking from Scratch without the Stress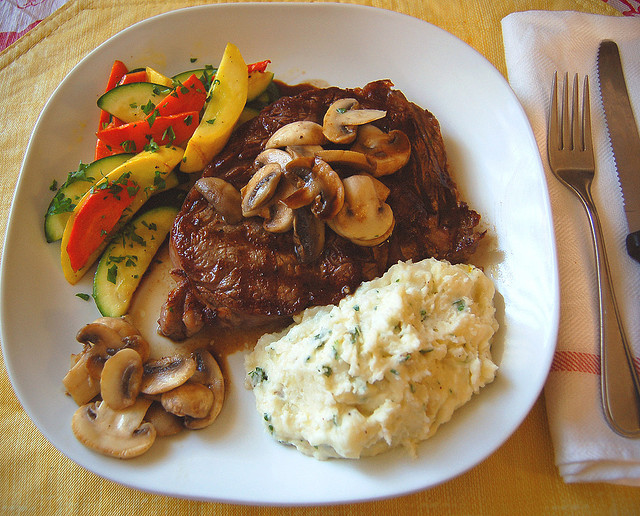 Cooking an entire meal from scratch can seem like a daunting task. This can be overwhelming if you have never done it, were not brought up eating home-cooked, from-scratch meals, or if you feel like you just don't have the time. I have found a few key steps to getting a meal from scratch on the table about 95% of the time (and then there's our frozen pizza night for the other 5%!). As long as I stick to these steps, cooking from scratch goes much more smoothly and seems like a lot less work than it used to!
1. Make a Menu Plan
This is the most important step for a lot of reasons - saving money on food, cooking from scratch, eating out less, etc. But the reason it is number one for cooking from scratch is because if you just scramble around at 4:00 every day, looking for something to make in the next hour or two, you are probably more likely to just open a can or box of something and go that route. But you will be missing a lot of fresh foods and nutrients if you do that, so planning ahead the meals for a week, two weeks or even a month will make a huge difference at 4:00 each day. You will be able to plan out using fresh ingredients and what things need to be made ahead of time.
2. Choose In-Season Produce
I like this one because using things that are in their freshest season will give you the best amount of nutrients and vitamins. It will also save you money! Buying apples in the Fall is much cheaper than buying them in the Spring. Their ripe season is Fall. Using citrus in the Winter is best. And some items are pretty much the same price year round at the grocery store, so you don't always have to try and figure out a food's season. (For me, I have noticed that spinach prices fluctuate, but it doesn't seem to be because of a particular season. This is true for the grocery store; however, it is fresher and sometimes cheaper at the Farmer's Market in the Summer.)
3. Use Alternatives to Processed Foods in a Recipe
I love creamy casseroles and gravies and sauces... BUT, the casserole's creaminess usually is because it calls for a "can of..." and I do not like using canned cream soups. Using my homemade cream of chicken recipe gives me the creaminess we like but without all the extra junk in the canned version. Same for gravy - sure, we can all just open a jar or can of gravy to put over mashed potatoes. If we plan ahead to make a gravy from scratch, then we can avoid all that salt in the jarred/canned gravies and it is MUCH tastier, as well.
4. Plan Ahead for Food Prep
Yes, cooking from scratch is going to take more time over all. But, we can plan ahead to do a little prep earlier in the day or the day before. If you need carrots or potatoes cut, do that the night before. Just cut and then cover with water and refrigerate. Then you have cut about 5 minutes off your dinner time work. If you need a creamy sauce or the cream of chicken replacement, make it earlier in the day and refrigerate it. Then it is as if you are just opening a can and putting it in the pan to warm up. Same with chicken or ground meat - cook it up ahead of time and refrigerate it. Then you can just pull it out and continue on with the recipe. And if you have a casserole to make, you could even make up the whole thing and refrigerate it in the casserole dish, then just let it sit on the counter while the oven warms up. Pop it in and dinner is ready in however long it takes to warm up or cook in the oven. (And if you really want to get ahead, do the once a week or once a month cooking! Then you have all your fresh, homemade recipes done ahead of time and frozen or refrigerated and ready to cook!)
5. Determine to Stick to It
Life can be busy. It can be CRAZY busy. Trust me, we have five kids. My husband drives an hour, one way, to work. My kids are all involved in things at church. I work from home. Life can be very busy here at times. BUT, if I resolve to stick to healthy eating, it gets easier to plan ahead and make the time to eat good, fresh foods. I keep my collection of recipes close by, and I make notes on the ones that call for processed foods, so I know what my alternative is when I go to make that recipe.
No, I am not perfect at getting a completely from-scratch meal on the table all the time. When I plan my meals out, shop for fresh produce, and plan ahead for the prep... we get a nutritious, delicious meal in front of us most of the time...and that makes me happy. :)
What have you found is the biggest challenge in cooking from scratch? Do you have any tips and tricks to share?